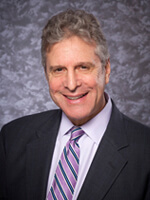 David Halpert, O.D. received his BA degree in Psychology from Queens College, CUNY in 1973. He was bestowed with a Bachelor of Science and Doctor of Optometry degrees from the Pennsylvania College of Optometry, where he graduated with Beta Sigma Kappa Honors. Dr. Halpert completed a summer Residency at the State University of New York, College of Optometry, in pediatric vision care.
Dr. Halpert had an associate practice in Hawthorne, CA specializing in the fitting of contact lenses and Vision Therapy from 1977-1979. In 1979 he opened the Agoura Hills Optometric Center. Dr. Halpert joined the medical staff of the Conejo-Simi Eye Medical Group in August 2012.
He is a Board Certified Optometrist and received additional certification in the treatment and management of ocular diseases in concert with the Therapeutic Pharmaceutical Agents (TPA) program.
Dr. Halpert has also been a Member of the Contact Lens Section of the American Optometric Association. Professional society affiliations include the San Fernando Valley Optometric Society, the California Optometric Association, and the American Optometric Association.
Dr. Halpert is conversant in Spanish.