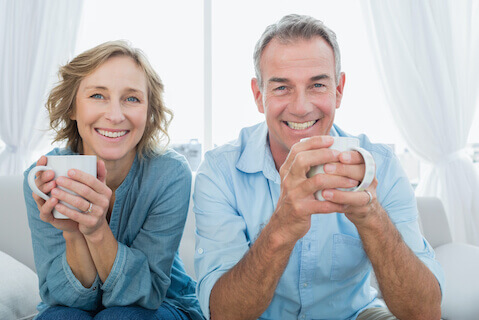 Years ago the only goal of cataract surgery was to improve vision. However, there have been so many surgical advances in the last 30 years, that this goal is now achieved approximately 99% of the time in a skilled surgeons hands. So Ophthalmologists then began to look at how can we make the procedure better.
Can we make the procedure safer and the outcomes more predictable?
Can we make the post surgical recovery of vision faster and smoother?
Can we also eliminate the need for eyeglasses or contact lenses after cataract surgery?
Happily, the answer to all those questions is now a resounding yes!
One of the greatest new advances in cataract surgery is the use of the femtosecond LenSx laser to assist the surgeon. The laser replaces the hand held scalpel making incisions with a degree of accuracy and precision that is impossible to achieve by hand. Additionally, the laser breaks up the cataract lens making the subsequent removal of it much less traumatic to the delicate inner tissues of the eye. Finally, the laser is used to reshape the cornea, the clear dome over the front of the eye, eliminating any irregularities (astigmatism) which are causing blurred vision. The result of all this is a lower complication rate, faster recovery of vision and better vision without glasses than can be achieved when the surgery is done manually. Unfortunately most medical insurance companies are not willing to pay for this advanced technology. Their goal is just to pay for the minimum despite the obvious advantages of the laser. However, Dr. Corwin strongly believes that in his hands, Femtosecond LenSx laser assisted cataract surgery gives better results and he recommends it to almost all of his patients unless there is a contraindication to its use.
Cataract Symptom Checker
New State of the Art Cataract Surgery Technology.
LenSx Femtosecond Laser Cataract Surgery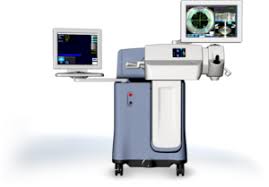 The LenSx® laser is an advanced, precision-based technology that operates with unmatched precisions and computer-control, helping ophthalmologists to customize the procedure to your eye. It is a technologically advanced option for cataract patients.
When you choose the LenSx® laser, you'll enjoy a range of vital benefits. A custom-tailored solution for your eyes.
While all human eyes share the same basic anatomical structure, every eye is just a bit different in terms of size, depth, the curvature of the cornea, and other key features. Which is why every eye must be carefully measured and mapped prior to cataract surgery.
The LenSx® laser uses a range of highly advanced technologies – including integrated optical coherence tomography (OCT) – to capture incredibly precise, high-resolution images of your eyes.
These images – and the measurements and data they provide – are then used to plan and perform surgery to exacting specifications not attainable with traditional surgery.
LenSx allows the cataract specialist to make all laser incisions. No blades are used. The LenSx® laser performs several of the most critical steps of the surgical process with an image-guided femtosecond laser.
ORA Cataract Surgery Technology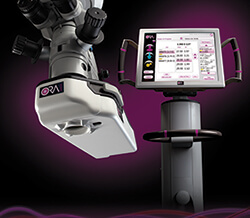 ORA guides the use of Advanced Technology Lenses by allowing your cataract surgeon to ensure the lens is perfectly selected and placed which helps give patients a better visual outcome.
During the procedure, your eye specialist can take measurements of your eye allowing adjustments to be made to optimize visual outcomes and ensure the results are more predictable.
There are now 3 different types of lens implants.
Multi-Focal IOL:
If you would love to no longer wear any eyeglasses after cataract surgery, you should choose a "Multifocal" lens implant. This lens will give you excellent vision at all distances after your cataract surgery. If you want to enjoy the freedom to play golf or tennis, swim or play with your grandchildren without eyeglasses getting in your way then this is the lens for you. Women, perhaps you are having difficulty seeing well enough to put on your eye makeup but obviously you can't wear eyeglasses when you do this? A Multifocal IOL also can solve this problem. However, we cannot use this implant in every eye. Extensive diagnostic testing must be done beforehand to be sure you are a good candidate for it. Also, when using this implant, you should have the procedure done using the femtosecond laser in order to achieve the level of precision necessary for this lens to function properly.
Basic IOL
The second type of lens implant is called the "basic" implant. You will achieve improved vision with this lens but will still be dependent on eyeglasses most of the time. If the basic implant is combined with the femtosecond laser, usually you will only need eyeglasses to read afterwards. If you don't mind wearing eyeglasses then the Basic IOL is the one you should choose.
Toric IOL
The third type of implant is called a "Toric" implant and is not for everyone. It is only used when the eye has a very irregular corneal shape causing a large degree of astigmatism. Toric lenses are available in either "basic" or "Multifocal" versions. If you have a high degree of astigmatism your vision after surgery will be much better if you use the Toric intraocular lens.
Dr. Corwin answers your questions about cataracts