What is LASIK Eye Surgery?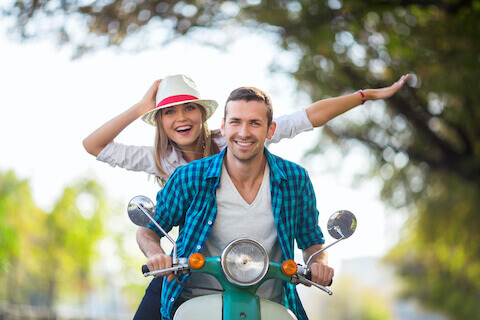 Are you looking for a permanent way to correct your vision so that you no longer have to wear glasses or contact lenses?

LASIK (Laser in-situ Keratomileusis) can correct your vision so that you see clearly without the use of corrective lenses. Using a laser to reshape your cornea (the clear dome-like structure over the front of your eye), it is a fast, safe and painless way to eliminate or reduce your dependence on eyeglasses.
Why Have LASIK?
People who are nearsighted, farsighted or have astigmatism can achieve clear vision through the use of glasses and contact lenses. So why would someone elect to have laser vision correction? The answer is usually to improve their quality of life.
With 20/20 vision there is usually no need for prescription lenses. That means one less hassle in their daily lives and the visual freedom to:
Most of our patients achieve 20/20 vision after LASIK.
Wake up in the morning with clear vision (no need to search for your glasses on the bedside table)
Work as a fireman, policeman , contractor or other professions where spectacles or contact lenses make work difficult
Participate in sports and water activities without needing prescription goggles or specialty sports glasses
Purchase a variety of fashion sunglasses that are less expensive than prescription sunglasses
Avoid the eye irritations that can occur with contact lenses
People who are born with good vision often take it for granted. However, our successful LASIK patients realize just how lucky they are when they realize how their lives have changed.
The "All-Laser" LASIK Procedure
There are 2 steps to the LASIK procedure. First a thin flap, the thickness of a credit card is made and gently retracted. You will not be able to see or feel this being done. Traditionally this was done using an oscillating metal blade called a microkeratome. Many LASIK surgeons still use this tried and true method. However, Dr. Corwin was one of the first eye surgeons to abandon this instrument in favor of the Ziemer femtosecond laser years ago. With this laser he can achieve a level of precision, accuracy and most importantly SAFETY that cannot be achieved with the microkeratome. In fact he believes so strongly in making the flap with a laser that he waited several years until this technology was available in the United States before proceeding with having LASIK himself.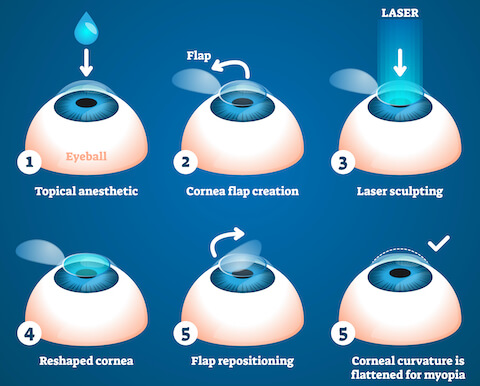 The second step in the LASIK procedure is the reshaping of the cornea with the excimer laser. We are pleased to offer LASIK with the Allegretto Wavelight EX500 excimer laser, considered by many to be the most advanced excimer laser in the world. The excimer laser is a "cold" laser that vaporizes and removes microscopic amounts of corneal tissue without creating any heat or burning anything. In this way it reshapes your cornea to eliminate your need for eyeglasses. WaveLight technology first developed by NASA scientists gives Dr. Corwin the ability to create a "map" of your eye to capture its unique features, a major advantage over earlier LASIK procedures. This enables him to customize the procedure in order to safely get the crispest, clearest vision possible.
Interested in LASIK?
The first step is to schedule an appointment to determine if you are a good candidate for the procedure and so that Dr. Corwin can precisely map your corneas and develop a customized surgical vision correction plan for you. This is a FREE consultation. If everything looks good and all your questions are answered , your LASIK will be scheduled. You will need to come back to the office close to your surgical date so that the final pre-operative measurements can be taken.
The Day of the Procedure. What happens?
LASIK is an outpatient procedure that takes about 5 minutes per eye. Both eyes are usually done the same day. It is done in our state of the art laser center in Camarillo. Just prior to the procedure, you will be given oral medicine to help you relax and eye drops will be placed in your eyes to numb them. Once you are ready, you will be positioned lying flat under the laser. This will be a painless procedure although you may feel some pressure on your eye during parts of it. You will only see lights and shadows during the LASIK. After your LASIK, Dr. Corwin will check your eyes and you will be able to leave right away. We do ask that you bring a second driver with you as you will not be recovered enough to drive yourself home. The rest of the day your vision will be blurred and your eyes may feel scratchy. Pain is extremely rare. We suggest you go home and try to nap for a few hours.
Recovery After LASIK
A follow-up appointment will be scheduled for the next day. When you wake up that first morning you should expect to have about 80% of your best vision. The rest will usually clear up in a few days. Except for rubbing your eyes and no swimming or mascara for a week, you can resume normal activities and even go back to work that next day. You will be using prescription eye drops for a week and checked back again in approximately 2 weeks.
Can I Afford LASIK?
We offer financing through CareCredit,® a well-respected healthcare credit card. They offer 6 month payment plans at ZERO percent interest. Low interest payment plans for up to 60 months are also available.
We also accept:
Cash or check
All major credit cards — VISA, MasterCard, AMEX, and Discover
Health Care Flex Spending Accounts or HSA Accounts:
Flexible Spending Accounts or HSA accounts are offered by many employers and allow you to use pretax income on medical expenses including deductibles, co-payments and medical expenses not normally covered by medical insurance. LASIK is a qualified medical expense under these plans thus significantly reducing your true out of pocket expense.