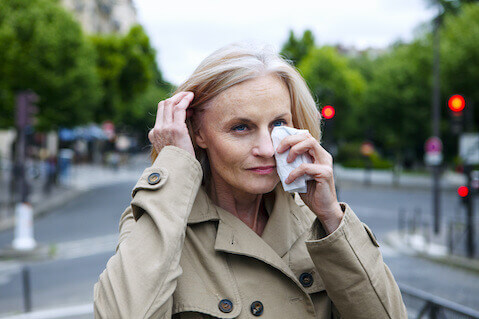 Offending allergens in the air can cause inflammation of your eyes leading to itching, redness, tearing and swollen lids. Unfortunately antihistamine pills tend to dry your eyes out thus relieving one aspect of OSD while making another worse so they should be avoided. If your doctor suspects ocular allergies may be causing some of your symptoms, they may suggest allergy testing if you have never had it done before. We will do skin testing of 60 common allergens specific to Southern California. A painless pinprick will be applied to both forearms . After 10 minutes we will evaluate the results. This will give us important information, specifically what you are allergic to and what prescription eyedrops will be most effective in treating you. Often times avoidance measures will also be recommended based upon the results. For instance, if you are allergic to dust mites, we will suggest a plastic cover to place over your pillow beneath your pillow.
Ocular Inflammation: The Common Denominator in Ocular Surface Disease
No matter the cause of your OSD, you will have chronic inflammation of the surface of your eye which is the root cause of most of your symptoms. In addition to treatments specific to your diagnosis already outlined here, you will often need ongoing anti-inflammatory medication . Depending upon the severity of your OSD, there are several prescription eyedrops options which may be tried, including Restasis, Xiidra, Cequa, and cortisone. Also some people benefit from what are known as serum tears. This is a custom made medication produced from your own blood in which the body's own ant-inflammatory mediators are concentrated into an eye drop.
If you are having any of the symptoms of ocular surface disease or have been previously treated for "dry eye" but are still having issues, we invite you to contact our office for a "dry eye consultation".