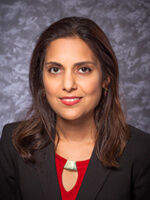 Ashish Toor, M.D. is a comprehensive ophthalmologist who provides medical and surgical eye care for adults and children. Additionally, she has a special interest in the management of glaucoma patients. Dr. Toor earned her medical degree from the University of Cambridge in 2003, graduating in the top 1% of her class. She was a recipient of the Cambridge Commonwealth Trust Scholarship and William Harvey Studentship for academic excellence.
Her internship in Internal Medicine was fulfilled at the Elmhurst Hospital Center, New York, where she was voted Intern of the Year. She completed both a clinical research fellowship in glaucoma as well as her residency in Ophthalmology at the Mount Sinai School of Medicine in New York.
She is affiliated with the American Academy of Ophthalmology, the American Society of Cataract and Refractive Surgery, the New York State Ophthalmological Society, and the Association for Research in Vision and Ophthalmology (ARVO).
Dr. Toor has conducted numerous research projects and presented findings at national and international conferences. Her research includes;
Intravitreal Bevacizumab as an Adjunct to Panretinal Photocoagulation in Diabetic Vitreous Hemorrhage. A. Toor, N.N Vaidya, R.L Lieberman, R.M. Fischer. Presented at 2007 Asia-ARVO conference, Singapore
Additivity of Pilocarpine to Bimatoprost in Ocular Hypertension and Early Glaucoma. A. Toor, R.A. Chanis, L.A. Polikoff, M.M. Fahim, A. Sinha, J.B. Serle. Published in the Journal of Glaucoma 2005
The Effectiveness of Selective Laser Trabeculoplasty in Lowering Intraocular Pressure. A. Toor, L.A. Polikoff, C. Coleman, J.B. Serle, A.S. Prywes, R.R. Rothman, C.H. Marcus, J. Weinstein. Presented at the American Academy of Ophthalmology 2004 Joint Meeting, New Orleans.
The Effect of Varying Dosing Interval on the Efficacy of Intraocular Pressure Lowering Drugs. A. Toor, J.B. Serle, M.M Fahim, L.A. Polikoff, R.A. Chanis, A.P. Sinha, J.B Serle. Presented at the 2004 ARVO conference, Ft Lauderdale.
Hospital Affiliations:
Community Memorial Hospital
Ventura County Medical Center
Dr. Toor speaks English, Spanish, Hindi, and basic French.