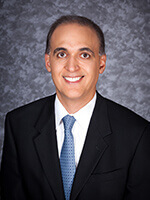 Daniel Ebroon, M.D. earned his medical doctorate from Northwestern University Medical School in Chicago, Illinois after graduating in the top 2% of his class at Massachusetts Institute of Technology with a B.S. in molecular biology. Dr. Ebroon completed an internship in transitional medicine and a residency in ophthalmology at Northwestern University Medical School as well as a fellowship in ophthalmic plastic surgery at Manhattan Eye, Ear, and Throat Hospital in New York, NY.
Ophthalmology Memberships
Dr. Ebroon is board-certified by the American Board of Ophthalmology. He is affiliated with several professional societies, including the American Society of Ophthalmic Plastic and Reconstructive Surgery and the American Academy of Ophthalmology. He is also a member of Alpha Omega Alpha and Sigma Xi Honor Society.
Dr. Ebroon has published several articles and textbook chapters. He has taught hundreds of hours of lectures to medical students and residents in Los Angeles, Chicago, and New York.
He was on the Board of Directors at Northwestern Healthcare Alliance for three years and held several faculty positions at Northwestern University, including Clinical Practice Director, Director of the Ophthalmology Residency Program, and Assistant Professor of Ophthalmology.
He is currently on the faculty at the Jules Stein Eye Institute at the David Geffen School of Medicine, UCLA.
Dr. Ebroon Has Attending Staff Privileges At The Following Hospitals:
Los Robles Hospital, Thousand Oaks
Community Memorial Hospital, Ventura
Ventura County Medical Center, Ventura
Visit Dr. Ebroon's personal website: www.ebroon.com