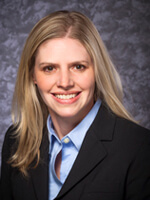 Shayna Mangers, M.D. earned her medical degree from the University of Illinois College of Medicine in 2003. In addition to graduating with honors, she was named to Alpha Omega Alpha, the National Honor Medical Society. She also received the Merck Award for Excellence in Surgery. Her internship was fulfilled at the University of Illinois College of Medicine/St. Francis Medical Center in Peoria, Illinois. She completed her residency in ophthalmology, as well as her glaucoma fellowship, at Washington University in St. Louis, Missouri.
Dr. Mangers specializes in medical, laser, and surgical treatment of glaucoma and also provides comprehensive ophthalmic services for adolescents and adults.
Research Presentations:
Mangers S, Kramer B, Holekamp N, Shui Y-B, Beebe D. Oxygen consumption by human vitreous humor. Poster presentation, ARVO 5/2006.
Mangers S, Harvey R, Aldag J, Dorsch J, Aiyer M, Novotny N. Impact of personal digital assistant use on internal medicine residents' clinical knowledge. Poster presentation, 114th AAMC Annual Meeting 11/2003; Annual Resident Research Day OSF St Francis Medical Center 5/2004.
Hospital Affiliations:
Community Memorial Hospital
Ventura County Medical Center
Professional Memberships:
American Academy of Ophthalmology
American Glaucoma Society
Alpha Omega Alpha Honor Medical Society